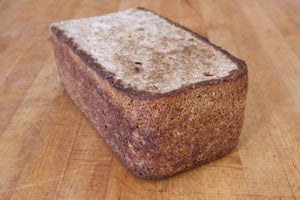 Wild Leaven Bakery
Sprouted Rye Sourdough Bread
Sale price Price $26.00 Regular price
Our whole-grain rye sourdough bread with organic sprouted grains and oats. Our sprouted rye sourdough bread is vegan.
Our sourdough breads are available in different sizes at our Taos and Santa Fe shops. Availability and quantity may vary. 
Ingredients: Organic rye flour, filtered water, organic sprouted rye berries, sourdough starter (organic rye flour, filtered water), organic rolled oats, sea salt.
Thank you for stopping by our Taos shop, our Santa Fe shop or our TFM booth to pick up your loaf of our Sprouted Rye sourdough bread. 
NO Shipping